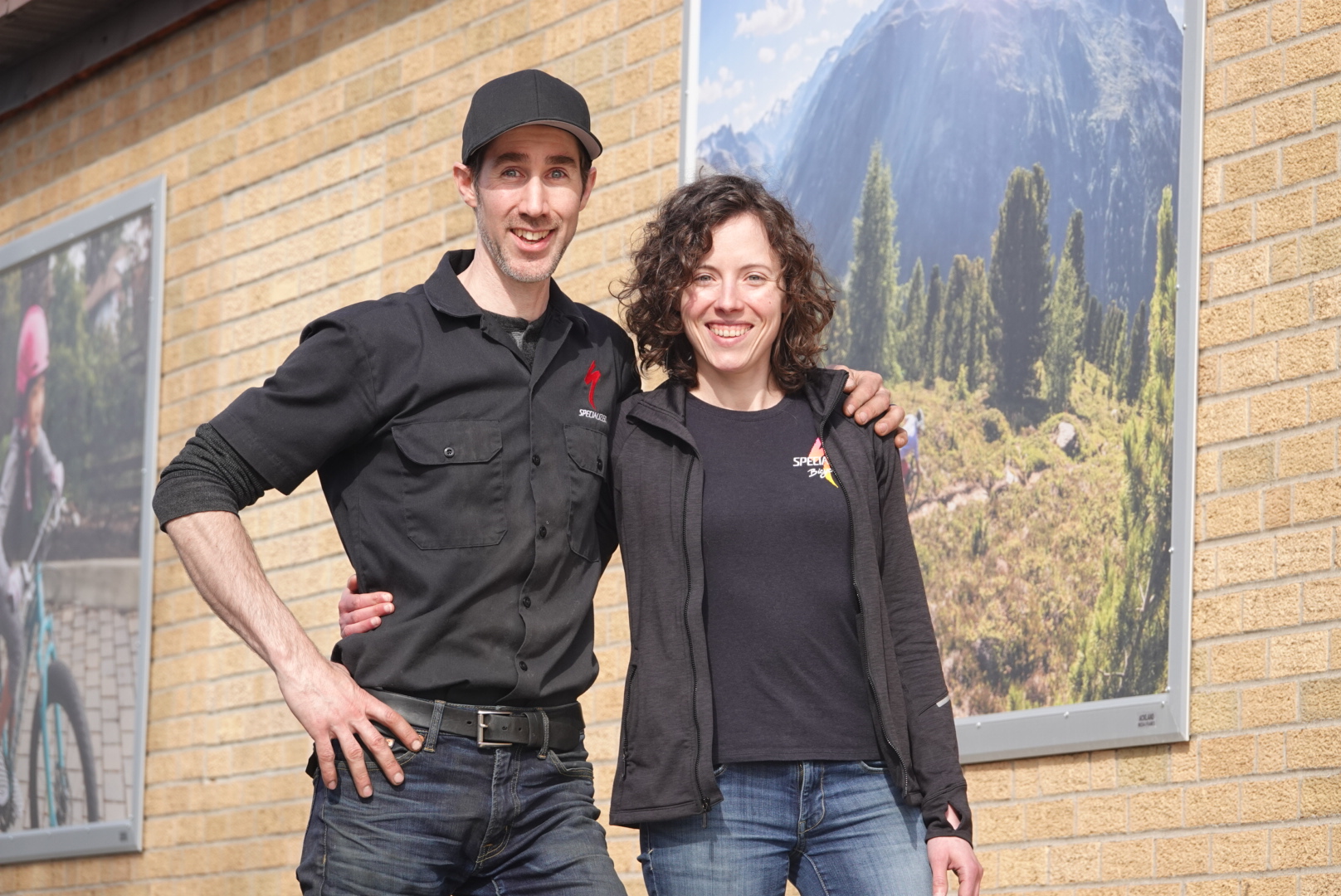 Located on the sweeping curve onto Water Street, Decorah Bicycles is part, well, parts—and quality ones, representing Trek, Burley, Specialized, and many others. More important, though, they're about service—with a mission: getting people on bikes they're truly excited about, improving health and community at every turn. 
Owner Travis Greentree has been on the shop floor since he was a teen, cycling in and out of the store so often—assisting customers as he went—that he landed a job. His family's auction business, growing up, had instilled in him can-do customer service, and at Decorah Bicycles he got to talk his favorite shop. "The rest, as they say, is history," Travis says with a laugh. He eventually took over the business and now has more than 20 years experience assembling and servicing bikes. "I like figuring things out on the workstand, and I like answering customers' questions—about everything from gear to route planning."
Josie, Travis' partner, joined the shop in 2015, soon after purchasing her first-ever mountain bike there. "I was not what you'd call a 'natural' on a bike," Josie explains. "I hadn't ridden—at all—since I was very young, so I completely identify with the rider at the introductory level, especially kids and women." Now an accomplished trail rider, Josie founded a network of regional clubs for mountain bikers called Fearless Women of Dirt (www.facebook.com/fearlesswomenofdirt/), as well as a blog, Josie's Bike Life, about learning life lessons in the saddle.
To that end, Decorah Bicycles offers a full range of rentals and sales of children's and youth bikes, comfort hybrid and fitness hybrid bikes, mountain bikes, fatbikes (those with 'fat' tires for traction and impact absorption on the trail), as well as kids' trailers and tag-along bike adapters. As a bonus, any rentals are applied to the purchase of a bike within 30 days.
Decorah Bicycles is also the local hub for free demonstrations and rentals of electric-assist bikes, or e-bikes. This new technology makes the rolling Driftless terrain accessible to just about everyone, Travis explains. "You can get farther, faster. I'll hop on one to run an errand downtown before we open, for example. I truly feel more people would ride if they could, and as a community, we'd have more people at the table to talk about things we all want: better parking access downtown, better air quality (affected by emissions), lessened road damage (with fewer motorized vehicles passing over them), more bike racks downtown for short trips, better cardiovascular health, more fun! The list goes on. It's why we do what we do." 
Out on their own two wheels, Travis and Josie are poster-ambassadors of Decorah Human Powered Trails—a division of Decorah Parks & Recreation that maintains Decorah's 26 miles of technical biking/hiking/horseback trails and new trail projects for beginning riders. "Decorah's strongest assets are its natural resources," Travis maintains, "and our trails are hidden gems." 
With names like "Little Bighorn," "Pines," and "Public Television," the trail loops have a few features in common: impressive climbs, rewarded by diverse habitat and, best of all, thrilling descents. "I like how our trail system flows together," Josie explains. "You can always find something challenging—mental, physical or emotional—and even cover terrain that makes you feel like you're not even in Decorah. That's why I'm passionate about it."